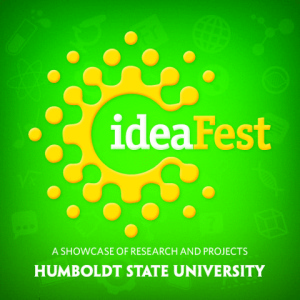 HSU's ideaFest on May 3, 2019 showcased the research and creative projects of more than 400 Students, Faculty, & Staff.   The event is sponsored by the Office of Research & Sponsored Programs, Marketing & Communications, and the HSU Library in collaboration with the Colleges.  
Social Work Student Presentations
Identifying Resources to Strengthen Pathways to Higher Education for Native Foster Youth in Humboldt County:  Liliana Gandarilla, Melody Soper, Alex Garcia
This project partnered with the Indian Tribal and Educational Personnel Program (ITEPP) to gather qualitative data regarding the strengths and challenges in the existing resources and services offered to Native foster youth (NFY) in Humboldt County. The intended goals were to use Indigenous research methods to 1. Build connections between community agencies serving NFY in order to create a stronger network of support; 2. Strengthen support for NFY that can carry on throughout their collegiate experience and facilitate their eventual degree completion; 3. Provide a model of practice for other campuses seeking to strengthen resources and pathways to higher education success for NFY.
Supporting Social Workers:  A Manual Promoting Sustainability & Wellness in Social Work: Katelyn Bawcom, Sarah Smith, Taylor Prilliman
The community project will consist of a manual that addresses the wellness and sustainability of social workers. Our community partner is Liora Levenbach and the finished project will be applicable to all social workers and supervisors, regardless of placement or role in the community. We are looking at how to decrease burnout and improve retention rates of social workers. We would like to take a strengths based approach by researching the effects of resiliency on social workers and their organizations.
Humboldt Tenant Landlord Collaboration (HTLC):  Katelyn Harris, Sonya Woody, Ashley Bradshaw
Humboldt Tenant Landlord Collaboration (HTLC) is an educational program designed to create positive working relationships between student tenants and landlord/property managers as a way to mitigate barriers to housing. In order to engage stakeholders in the development of the program, we held three town hall meetings where we facilitated conversations around housing issues in the area. The data that was collected during the town hall meetings is helping to inform the topics in the modules for the program. Our poster showcases our process, our outcomes, and the next steps for HTLC, which will be launched for tenants and landlords by Fall Semester 2019.
Training and Continuing Education Manual for In Home Supportive Services:  Lauren Pollock
This project is the creation of a training and continuing education manual for In Home Supportive Services, social workers. Gaps and barriers in training will be assessed through a survey to current staff. Results will be analyzed and considered in the development of new training materials. A variety of learning methods, as well as information on working with culturally diverse populations will be considered in the creation of the manual. The intended purpose of this project is to create equitable services to the clients, as well as providing extra education and resources to reduce burnout and turnover of staff.
Art is Culture, Culture is Medicine:  Jibril Bob, Wendy Kerr
The aim of this project was to address the lack of Indigenous representation in the Boys & Girls Club in Klamath, which operates on the Yurok Reservation. We were tasked by the Yurok Tribe and the Boys & Girls Club of the Redwoods to create a culturally appropriate mural.
Beyond Surviving—Thriving: A Study of Resilience Protective Factors in Child Welfare Social Workers:  Zachary Roberts, Dr. Marissa O'Neill
The nature of the child welfare social work exposes workers to various forms of trauma impacting the sustainability of this workforce. The retention of social workers has a direct impact on the success or failure of families and children engaged with the child welfare system. Examining protective factors for these workers will increase information about where to focus agency and personal efforts. This is a quantitative study of resilience protective factors measuring resilience, personal meaning, quality of life and post traumatic growth. Findings will help us explore ways to support this workforce and how these factors may impact child welfare worker's intention to continue in this field.
Creating Awareness About Traumatic Brain Injuries:  Morgan Carley
The focus of my project was to address the lack of knowledge pertaining to Traumatic Brain Injuries (TBI) and to let locals know. This included Bear River Rancheria, Eureka Police Department, Making Headway Center, and some other local locations. Pamphlets were dispersed with information regarding TBIs and were culturally appropriate for whichever population that they were dispersed to.
Making Connections Between Queer Students and Resources:  Sebrinna Schmidt
The Eric Rofes Multicultural Queer Resource Center (ERC) works hard every year to provide resources to the queer identified students on campus. This can be a difficult yet rewarding position to be in. The difficulty being, at times, queer students have other needs that go beyond what the ERC is able to assist with. This does not stop the ERC from trying to connect students with other resources both on and off campus. With their guidance a resource zine was created. Its intention is to bridge gaps and make connections from the students to the resources they may find useful.
Youth Outdoor Resilience-Building Experiences Pilot: Planning, Implementation and Program Evaluation with Big Lagoon School: Molly Hilgenbergs
During the academic year 2018-2019, Big Lagoon School was awarded a grant from the Alexander T. Salvos & Timothy A. Salvos Fund for Youth of Humboldt Area Foundation, which provided the opportunity to formalize the Outdoor Resilience-Building Experiences pilot program, an intervention for creatively addressing the need for more behavioral and social-emotional supports with youth in rural schools. This was an IRB-approved study measuring student resilience outcomes with self-regulation skills, mindfulness, and empowering access to the county's natural surroundings for participants grades 4-7. Findings will help the program test effectiveness and sustainability.
A Mixed-Methods Pilot Evaluation of Humboldt County Mental Health's Dual Recovery Program Groups:  Bryan Kraus, Nicole Calvino, Meghan Sheeran
Our team partnered with Humboldt County's Dual Recovery Program to design/implement new methods for evaluating the degree to which their program supported clients in recovery from co-occurring mental health and substance use disorders. Our project took a holistic, whole person approach which took cultural, social, environmental, and medical factors into account when assessing client's process of recovery. In addition to quantitative data, we also gathered qualitative data by facilitating a focus-group discussion with DRP clients. The statistical analysis and qualitative themes that emerged were reported back to DRP clients and staff in series of meetings held at the county.
Billing Medi-Cal for Indigenous Cultural Practices:  Sitaram K. Sandin
Two Feathers Native American Family Services is becoming a Medi-Cal provider through Humboldt County Mental Health. This will provide new revenue streams for their services but also requires navigating the Medi-Cal billing system. For my masters project, I helped research and compile best billing practices so Two Feathers can effectively bill for their many culturally-based interventions. My poster will highlight the important work Two Feathers is doing and will explain the importance of culturally-based interventions.
Barriers to LGBTQ+ Transition Age Youth in Humboldt County:  Eugene Williams
My community partner is the Humboldt County Transition Age Youth Collaboration (HCTAYC). The project is a preliminary research project that looks at the barriers in systems serving the LGBTQ+ transition age youth (16-26) population in Humboldt County. The outcomes from the research are the base for policy recommendations that will be used at HCTAYC. The results from the research done will address the specific question: "How are systems serving the LGBTQ+ transition age youth community in Humboldt County?"
Cho' Skuy Soo Hey We Chem':  Deconstructing Seeking Safety Training Manual for PTSD and Substance Use:  Ruby Aguirre
Cho' Skuy Soo Hey We Chem': Deconstructing Seeking Safety Training Manual for PTSD and Substance Use is a pilot curriculum being developed in collaboration with Yurok leaders, elders, professionals, and myself in constructing a culturally appropriate curriculum to address PTSD and Substance use for Yurok families navigating the child welfare system. Post-colonial theory informs my practice while working indigenous communities. Colonization has stripped Native American communities from their land, resources, identity, sovereignty, and children. Western models do not work for indigenous communities, thus offering culturally appropriate services is critical for the healing process.
Healthy Youth, Healthy Communities:  Felicia J Stansbury
Our goal is to demonstrate the importance of connection between the natural environment, community, individuals, and wellness. We are creating a curriculum to provide a non-traditional prevention/intervention program of outdoor, wilderness activities for youth in the Southern Humboldt region. It is important to note, Ecological Systems Theory is the foundational framework for this project. The ecosystemic perspective is a way of thinking and organizing knowledge that emphasizes the interrelatedness and interdependency between individuals and social systems (Waller 2001). The purpose of our work; promoting healthy activities for youth in order to foster a healthier community.
Resilience, Protective Factors and Sustainability in Child Welfare Workers:  Jamie Curtis
The preliminary findings of this research highlight the resiliency, retention, and protective factors of Title IV-E child welfare workers. This study aims to better understand the relationship between the effects of working in a field with high exposure to vicarious trauma, and a social worker's own personal resiliency and coping strategies. The implications of our research suggest several ways agencies and educators can increase the well-being and sustainability of social workers. Improving the well-being of child welfare workers can have a substantial impact on the experiences and outcomes of children and families in our communities.
The Misrepresentation of Inclusivity:  Laura Garcia
Humboldt State University's students, faculty and staff aspire to be an inclusive and liberal school. However, this is not necessarily the reality that students, particularly students of color, have experienced attending school and living in this area. This study utilizes general inductive analysis that focuses on: How is diversity being represented in Humboldt County as reflected in local news sources and their comments sections? According to the data, there are certain aspects of the system that we can change to provide more support when students experience racialized violence. This project seeks to make recommendations for change in the public dialogue on diversity issues.