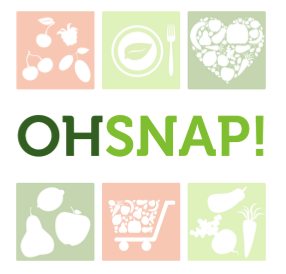 Congratulations to Humboldt State University Oh SNAP! who was just funded by Associated Students for $13,385 which will be used to purchase farm fresh produce for students!

Did you know that EBT is now on campus? Humboldt State is among the country's first universities to accept Electronic Benefit Transfer (EBT) cards from the U.S. Dept. of Agriculture's Supplemental Nutrition Assistance Program (SNAP). Eligible students, faculty, and staff can now use Electronic Benefits Transfer cards to purchase food at the College Creek Marketplace.
HSU Social Work Professor Jen Maguire who has been researching food security issues explains:
Food security issues, such as having access to adequate nutrition or even enough food, are very important to our students well-being.  Research has continually shown that access to healthy and affordable foods can improve the quality of life for everyone. Emerging evidence points to direct links between our students' ability to access nutritious foods and to successfully navigate stresses of studying, home life, and working to afford school.
In 2015, HSU graduate student Heather King published "College Student Eligibility Barriers to CalFresh," a thesis for her Masters of Social Work program. Through interviews and surveys, King found that up to 40 percent of students were cutting the size of meals or skipping them entirely because they didn't have enough money for food.
King's research is part of HSU's efforts to address student access to food, which includes bringing CalFresh benefits to campus. Since 2013, the student-driven Oh SNAP! program has helped refer students to the CalFresh benefits program and connected them to local food assistance efforts. Students can get free food through Oh SNAP's Campus Food Pantry and seasonal farm stands. The group also offers cooking demonstration courses and shuttles students to nearby farmers markets.
Learn more about HSU Oh SNAP! at hsuohsnap.org.