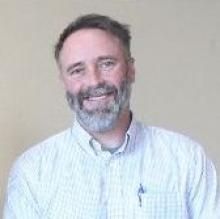 Jed Mefford, MSW
2019 Alumni of the Year
MSW Class of 2006
Humboldt Department of Social Work is honored to announce our 2019 Alumni of the Year, Jed Mefford. 
Jed Mefford graduated with a Bachelor's Degree in History and Minor in Native American Studies from Humboldt State University in 2001.  He graduated with his Master's in Social Work degree from Humboldt State University in 2006 and was a CalSWEC Title IV-E recipient.  Jed completed his employment payback by working as a social worker with Del Norte County Child Welfare Services (CWS) and then with Humboldt County CWS and has remained with Humboldt County CWS since.  

"I find the work challenging and rewarding for a variety of reasons.  CWS has an important role in the community and involves navigating complex regulations that require collaboration with families and community to ensure fairness and justice.  Of the positions I've held with CWS, one of the most rewarding has been as a Field Liaison for the ten or more Humboldt Social Worker Department Interns assigned to Humboldt County CWS each year.  I have been involved in the onboarding, training, and mentoring of over 50 interns since 2012."  - Jed Mefford
 
"I first met Jed when he was an intern at CDSS Arcata District Office. It has been my great pleasure to watch the evolution of his career, from intern, to dedicated social worker, to supervisor, and now to someone who provides support to the dozens of students who intern at CWS." - Phoebe Cellitti, Lecturer

"He is wonderful to collaborate with and provides ongoing support, mentorship, and training to our student interns."  - Julie Simpson, Child Welfare Training Project Coordinator

Congratulations Jed!