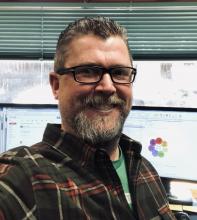 Jeff McKay
MSW Class of 2017

Professional Academic Coach, Jeff McKay, began work this September as the Deputy Director of Health and Human Services in Alpine County. 

Jeff graduated from the MSW Program at Humboldt in May of 2017.  Prior to attending Humboldt,  he earned his BA in Sociology from California State University, Northridge and his background was primarily in the military and law enforcement.  He started his career in Social Services in 2012 at the El Dorado County Health and Human Services Agency in the Child Protective Services (CPS) program as a Staff Services Analyst. 
During my 5 1/2 years with El Dorado County, I managed the County's Commercially Sexually Exploited Children (CSEC) program, coordinated the CSEC Task Force, and helped develop and implement the dual-status youth program for County Probation and CPS.  As a Title I-VE student, I was able to intern with El Dorado County and gain experience in a wide variety of social service and community based programs. This experience led to a better understanding of the numerous state programs overseen by social service agencies, and this provided me with new opportunities to better serve the children, adults, and families engaged with social services, public health, and environmental health programs.  Policy development and program administration have always been areas that I have engaged with throughout my time in social services, and my new role as Deputy Director for the Health and Human Services Department (HHS) of Alpine County will allow me to continue in this work. My goal is to always seek to provide compassionate, culturally literate, and quality services and programs to our Tribal and County communities.  This aligns with Alpine County HHS's Mission Statement: "To promote the dignity and well-being of children, families, and adults through pubic health and human service programs."