The Department of Social Work maintains a list of links to resources to support Native American Indian students with Financial Aid, Scholarships, Internships, Degree Programs, Housing, Native Support Programs, Academic Advising, Conferences, Leadership Opportunities, and Special Events.
American Indian College Motivation Day - American Indian College Motivation Day is held each Fall at Cal Poly Humboldt. Approximately 400 high school students from 30 schools throughout Northern California attend the event. In all, 30 tribal affiliations are represented. One of the highlights of the program is the opportunity for Instant Admission for senior attendees who have applied to Humboldt, offered by the Enrollment Management staff. Workshops are led by United Indian Health Services, Tribal affiliates, UC college representatives, and Humboldt personnel. The day also includes a College Fair, in which students are exposed to college representatives, several community organizations, and Humboldt programs. Check back in September for more details.
American Indian Education Minor - The American Indian Education (AIE) minor is housed within the College of Professional Studies and the Department of Child Development.  The AIE minor provides an understanding of the particular educational needs of American Indian students,  as well as the skills to apply methodologies and classroom practices conducive to academic success and validation of cultural identity and values.  Contact the Department of Child Development at 707-826-3471 (childdev@humboldt.edu) or DOWNLOAD THE CATALOG DESCRIPTION HERE for more information. 
California Big Time & Social Gathering - Founded on the principles of enhancing and sustaining Native languages, cultures, and traditions, this public celebration of American Indian culture includes sharing of songs and dance from throughout California, networking, educating and creating a space that honors and supports Native students on the Humboldt campus.  
Educational Opportunity Program - Educational Opportunity Program (EOP) was created to increase access and improve retention of low-income and historically underrepresented students in higher education. The program provides admissions, academic and financial assistance to eligible California residents.
Humboldt Library Collections on North American Indians - Found in the Humboldt Room of the Library and the ITEPP Resource Center, Humboldt's collections on North American Indians serve as a major resource for the Northern California community, as well as for students and scholars engaged in research on Northwest California Indian subjects. 
Indian Natural Resources, Science and Engineering Program - Humboldt's Indian Natural Resources, Science and Engineering Program (INRSEP) provides academic and research support services to historically underrepresented students in the Sciences, in order to support their academic success and degree completion, as well as connect them with the resources and opportunities to meet their career and graduate school goals.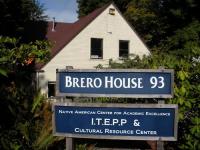 Indian Tribal & Educational Personnel Program - The Indian Tribal & Educational Personnel Program (ITEPP) is an academic support program that assists students in navigating the University system.  ITEPP has grown over four decades to support Native American Indian students in a wide array of academic disciplines within the three colleges:  Arts, Humanities & Social Science; Natural Resources & Sciences; and Professional Studies 
Native American Studies - Cal Poly Humboldt's major in Native American Studies (NAS) is unique in the 23-campus California State University system. It provides in-depth knowledge of Native American perspectives in a variety of career paths, including tribal law and government, natural resources and the environment, language and literature and a variety of social sciences.
Native American Living Suite - The Native American Living Suite is an on campus living community for students interested in issues, culture and values of Native American tribes.  It provides an opportunity for students to engage with an array of students from diverse Native American tribes throughout the Nation. Prospective residents must complete a supplemental application regarding their interests in this community; admittance will be contingent upon this application. (Open to all students, based on application, Cypress, 3rd floor)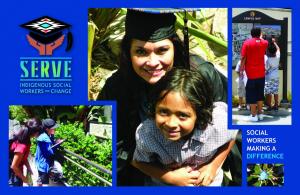 SERVE: Indigenous Community Social Workers for Change - SERVE's
goals are to focus on decolonizing the social work curriculum and pedagogy, create a more relevant program for Indigenous students by better understanding the history and needs of Indigenous populations, and strive to shape child welfare services to better serve Indigenous children and families.  FOLLOW THIS LINK FOR MORE INFORMATION.