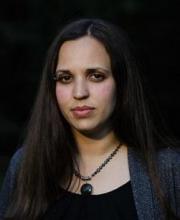 Rochelle Trochtenberg is currently the California Foster Care Ombudsperson in Sacramento, Ca.  She previously worked as the Humboldt County Transitional Age Youth Collaboration Lead Youth Organizer, a component of the Department of Health and Human Services' Transition Age Youth (TAY) Division, serving young adults age 16-26 as they transition to adulthood and independence.  It has three main units: TAY Behavioral Health, the Independent Living Skills program and HCTAYC.
Rochelle grew up in the foster care system in Los Angeles County. In and out of child welfare services since she was 5 years old, she was taken out of her home for the last time when she was 13. She was raised in group homes for youth and she was labeled "severely emotionally disturbed." She emancipated on her 18th birthday and became homeless, couch surfing and living in shelters until she met a family that allowed her to stay with them for a year as long as she went to school.
As a former foster youth, Trochtenberg felt compelled to voice her opinion about the group home system at a July 2008 conference the county held to gather the opinions of youth like herself. When she openly criticized the Humboldt County Department of Health and Human Service's approach to group homes, she didn't know she would end up being invited back for more discussion and eventually employed by the department.
Trochtenberg went on to earn an associate's degree after eight years, applied to five state colleges and was accepted to all five. She landed at Humboldt State University where she earned a Bachelors in Social Work from Humboldt State University, served as the President of the Humboldt Social Work Student Association as well as the Founder and Chair of the Humboldt Former Foster Youth Club. She interned at Child Welfare Services before becoming the Lead Youth Organizer of the Humboldt County Transition Age Youth Collaboration.  She earned her MSW from Humboldt State University in 2015.
A Lead Organizer of the Humboldt County Transition Age Youth Collaboration (HCTAYC), Trochtenberg has received national recognition for her work. Rochelle has acted as a leader and mentor, engaging youth with experience in foster care, mental health, juvenile justice, and homelessness to bring their voices and experiences in to policy-setting and decision-making tables throughout various systems. Trochtenberg strives to improve systems by helping young people understand the policy, politics, and impacts of laws, as well as how to navigate and leverage their power to shape the political conversation. She believes that systems function more effectively when decisions are informed and connected to the real life experiences and voices of those who depend on those services.   
Rochelle has dedicated herself to a number of statewide efforts, such as serving as Co-Chair of the Katie A. Pathways to Mental Health Community Team, working on the California State Quality Improvement Project to Improve the Use of Psychotropic Medication Amongst Foster Youth, and serving on the California Child Welfare Council since 2010.  Rochelle was a founding Board Member and Secretary for Youth In Mind serving until June of 2013 and serves on the Board of Directors for California Mental Health Advocates For Children and Youth (CMHACY) since 2009.