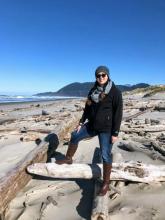 Class of:
2011 - MSW, BASW Class of 2010
Tahnee King
MSW Class of 2011, BASW Class of 2010

Tahnee King currently resides in Oregon and is married to an active duty Coast Guardsman.  Throughout her studies her focus in school was directed towards the adult and elder population.  As a BASW student at Humboldt she interned with Silvercrest, an affordable rental housing community located in Eureka, CA.   She also volunteered at the Adult Day Care in Arcata.  As an Advanced Standing MSW student, her internship was with Adult Protective Services (APS).

I loved it and the team. They hired me and I worked with them two years until I met my now military husband and moved with him to Texas.   In Texas I learned quickly that every state has different licensing requirements. I tested and passed the required LMSW exam and was then hired at a hospital in the in-patient geriatric and adult psych units. I worked intake/triage, ran counseling groups, and managed the court emergency hold paperwork for the involuntary patients. When I noticed my burn out level was high due to sometimes 10-13 hour work days with no set schedule, I decided to take a position with the sister hospital as a medical social worker/case manager. There I made APS reports, worked with the county Public Guardians, and counseled people with newly diagnosed terminal illnesses.  I also helped patients transition to dialysis, hospice, skilled nursing facilities, in-patient psych units, in-patient rehab units, etc.  The position also allowed me to hold meetings with physicians and other staff to discuss patient needs and care plans for safe discharges.
 
When her husband received orders to move back to Alameda County in California, she secured a position as an Assistant Public Guardian with the county and renewed her ACSW to collect clinical hours.  In this role she wrote court reports, appeared in court, and attended to client's needs including medical/psychological matters and decisions. 
 
Soon after the move to Alameda County,  they relocated to Oregon where she again needed to comply to states rules to became a CSWA.  The state accepted her CA and TX clinical hours and she secured a position in the rural county as the sole Hospice/Home Health/ Bereavement Social Worker.

Here, I drive the county seeing clients, providing counseling, completing psycho-social assessments, connecting patients to community resources, and coordinating with the local APS office and DC planners at the hospital.  My goal is to have my LCSW by 2019.  All the moving has slowed this process down for me so I'm happy to say I'm almost done with collection of hours.  I have been so lucky to see the full circle of services provided to our adult/geriatric populations and this experience has helped me secure positions easily where ever we have moved. I plan on continuing to work with this population through out my career. I may want to teach classes on it one day.  For now I'm focusing on my life here in Oregon until the next orders come in and we start another new adventure.