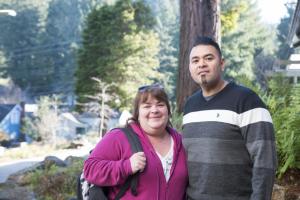 Guided by our program emphasis, we have a commitment to supporting the development of internship opportunities in tribal agencies and programs. This collaboration and support may include internship planning guidance, off-site supervision and supervision training.
Our program has a particular interest in building opportunities for current employees in tribal agencies and programs to develop meaningful employment-based internships when possible. We recognize that these students are already playing a vital role in their community and we wish to support opportunities to deepen their skills and leadership development.
Potential programs that could be considered for field placement sites include:
Tribal TANF
Tribal Family Resource Centers
HS-based Clinics
Behavioral Health
AOD
Indian Child Welfare
Vocational Rehab
Schools
Tribal Head Start
Suicide Prevention
Family Strengthening
Health and Wellness
Food Sovereignty
Language & Cultural Revitalization
Youth Programs
We also support non-tribal identified students in tribal services settings, as available. Every internship setting establishes it's own application and screening process, and determines what will make a good match for placing a student intern.
To learn more about the internship placement process, please contact Yvonne Doble, Director of Field Education, yvonne.doble@humboldt.edu.